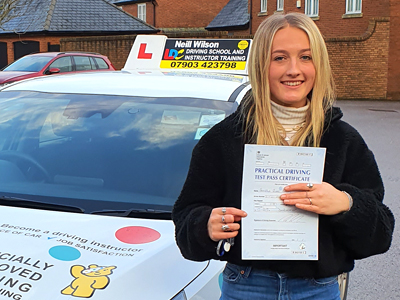 Millie
Confidence Boosted - First Time Pass
As someone who was very apprehensive about driving and lacked confidence in my own ability, Neill completely changed my mindset within the first lesson! His expertise and years of knowledge, combined with his patience and relaxed approach made me feel comfortable and in control of the car. I can't thank Neill enough for having faith in me and for boosting my confidence, whilst shaping me into a safe and confident driver. I couldn't have done it without him and would recommend him to anyone!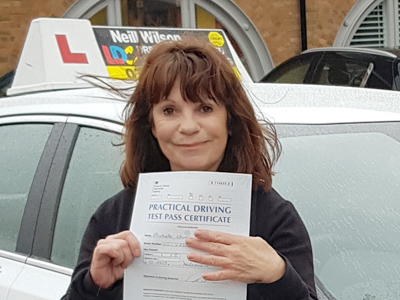 Michelle
Confidence Boosted - First Time Pass
An exceptional driving tutor. Neil helped me to overcome my fear of UK roundabouts with calm and professional instruction. I would highly recommend Neil Wilson LDC Driving School to anyone wanting to improve their driving skills, confidence and ultimately pass their test.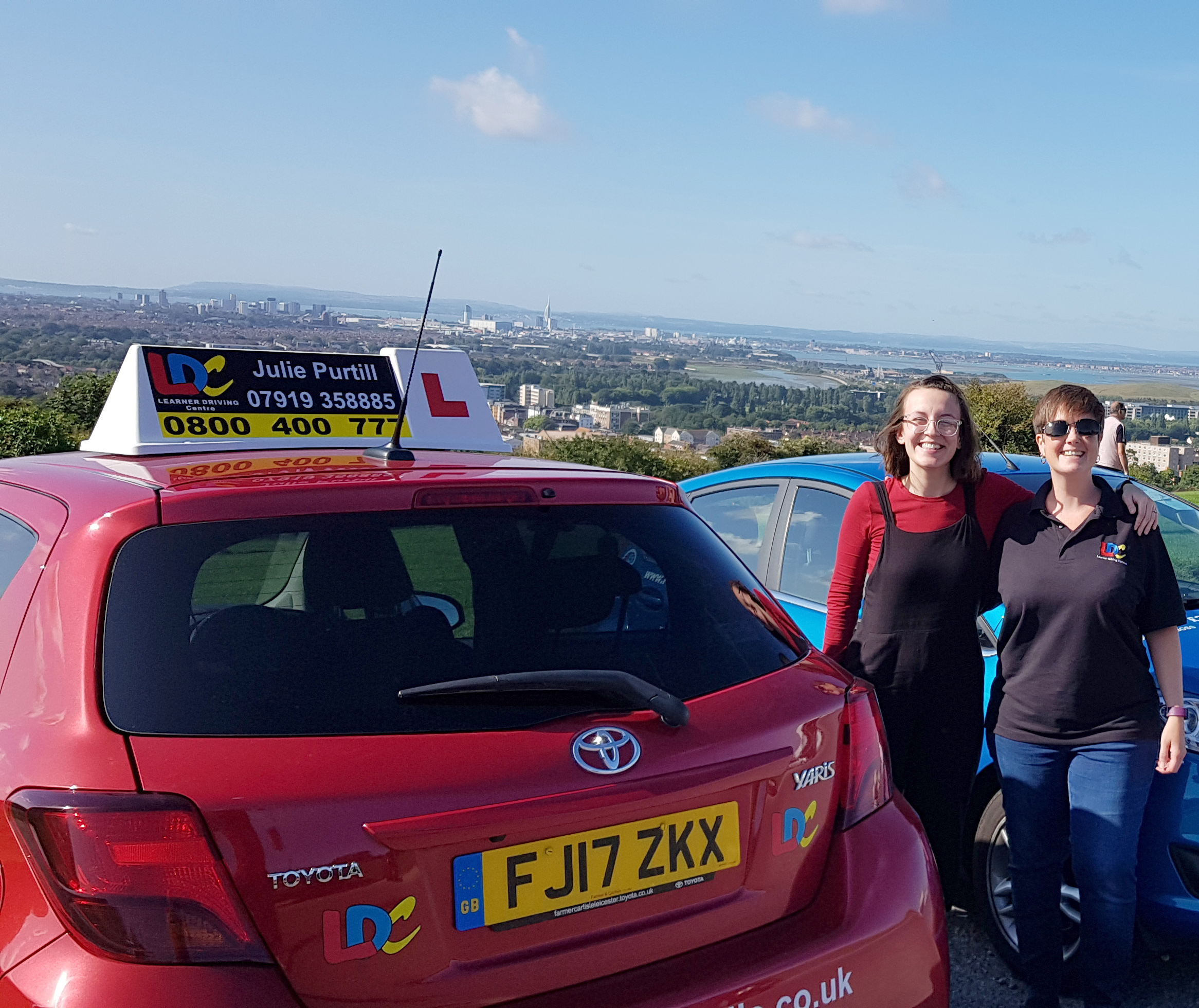 Julie Purtill
Instructor Training
Neill helped me pass both my Part Two and Part Three ADI training. He was always calm and relaxed. He had so many questions up his sleeves. I don't know how he manged to think of them all!! Thanks again Neill.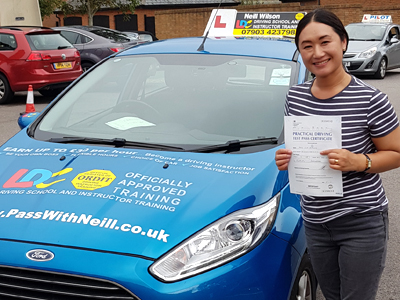 Sita Gurung
Nervous Learner from another Instructor
Neill is a brilliant instructor, I couldn't have imagined anyone better, he is so patient, motivated, calm and kind. I felt so comfortable to discuss with him about the confusions and unknown matters. Very punctual, strongly recommend Neil's LDC. Thank you Neill for making my driving experience a successful one, it's been an absolutely pleasure x.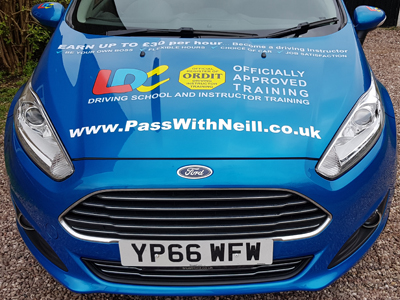 Tony Jessop
ADI Part Three First Time Pass
Neill is an excellent trainer. I have just passed my ADI Part 3 and couldn't have done it on my first attempt without Neill's professional and honest guidance. He supported me on my journey and helped me to work out what I needed to do to succeed. Thanks Neill.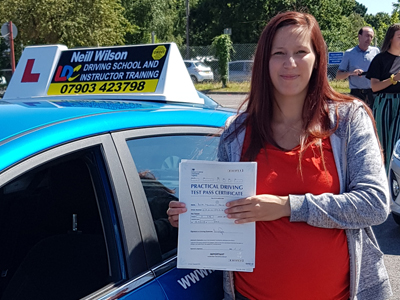 Mo Jarvis
Confidence Boosted - First Time Pass
Thank you for getting me on the road! You made me confident and the maternity belt was amazing.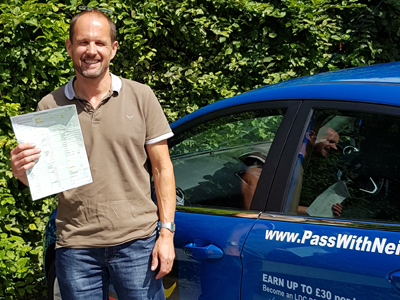 Lee Humphris
ADI Part Two First Time Pass
Thank you for your expert eye and tuition helping me prepare for Part Two. Now on to Part Three.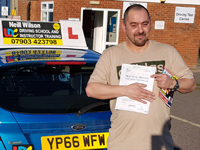 James
Confidence Boosted - First Time Pass
Big thanks Neill couldn't have done it without your help, your a great instructor and I would highly recommend you to anyone needing to pass their test, and I'm going to put my daughter in for her test with you aswell, you have been a massive help to me and my family and improved my life ten fold thanks again James much appreciated.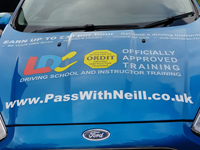 Jamie
Instructor Training
Neill was my Instructor for my ADI apart 3 (which I passed 1st time). He was really informative and always provided great and useful feedback. The sessions were always student lead, which made me feel totally in control of my own progress but always supported. He pitched the amount of lessons and the timing of when I needed them well, which complimented my free lessons that I was giving (which he occasionally also came along for) perfectly. Thanks Neill.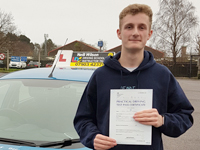 Marty
Passed First Time
My experience with Neill was completely positive. There was never a point where I didn't feel in control of the lessons, it was nice to be consulted and asked what I wanted to work on and what I was comfortable with doing, rather than being told 'were doing this today.' Another positive comment would have to be the fact that Neill never made me feel as if he didn't trust me, which is ideal when I was in control of the car. I am pleased with my overall experience and will continue to recommend Neill to friends.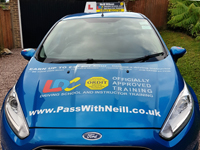 Errol Earlington
A big thank you to Neill for helping me with my training for ADI parts 2 and 3 tests. During the training I was giving excellent coaching with a client centred approach and great role play sessions. I managed to pass the part 2 test on my first attempt and the part 3 test on my third attempt with a pass mark of A. Once again thank you for your professionalism and knowledge of the subject. Kind Regards Errol Earlington.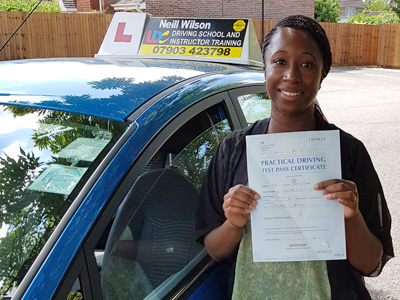 Nikita
Perserverance
I was quite a nervous driver and made silly mistakes in my tests but thanks to Neill's patience, flexibility and encouragement I persevered and passed! Together with his professionalism and the LDC workbook really helps to make you a more confident and safer driver.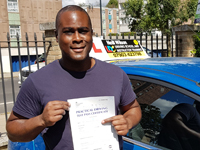 Wayne
Perserverance
My driving lessons with Neill was excellent. I learnt a lot from eliminating faults and developing my driving skills. Neill is professional and very knowledgeable. He understands how a nervous driver feels. His tips for planning each lesson gave me confidence to pass my driving test. I enjoyed the experience and highly recommend.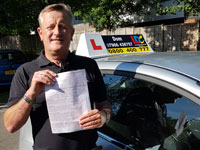 Dominic O'Donovan Rossa
Instructor Training
I highly recommend Neill if you're looking to train as a Driving instructor. His professionalism, attention to detail, and patience are first class. I met with Neill early last year, after passing Part 1 we worked closely and I passed my Part 2 first time in September '17. Then the hard training for the tough test which is Part 3 took place. I acquired a Pink PDI Licence, and my own car via LDC, started working with my own students, gained my first 2 passes for them, first time, and then sat my own Part Three Test on June 6th 2018...Passing First time! None of this could have been achieved without Neill, so do contact him and start on the road to becoming an ADI... you won't regret it. With Neill and the support of the LDC Head Office, you'll be in safe hands. I'm now really busy with my own Students, and loving the job! Dom O'Donovan Rossa. ADI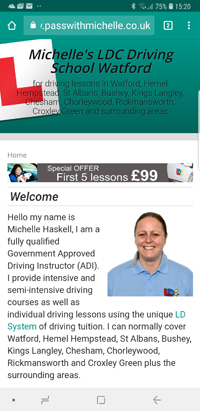 Michelle
Instructor Training
Neill has been my trainer and trained me to become a driving instructor. He has been a great support through the 18 months of my training. I found at the start that it was very overwhelming, by how much I had to do, but with Neill's help I was able to break the areas down into small chunks. Neill has a wealth of experience; the learning has been fun, he is calm, and his relaxed manner will help even the most nervous of students through the training. Thank you, Neill. It has been an absolute pleasure being a student of yours and I could not have passed my test without you. I found LDC fantastic and the course material is second to none. There is something for every type of learning style. I'm a visual learner and when my brain got over loaded with paper work the DVD's were my life line. The varied course material includes DVD's, YouTube, books, classroom work and in car training something for every learning style. The help and support from Neill, other training students and trained ADI's means no matter what your question, whether big or small, will be answered. The student lead learning is fantastic, you get a feel for the job before your left on your own with students sat in the seat.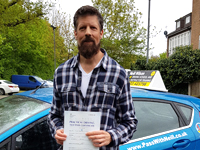 Hanno
First Time Pass
I came to the UK having driven for 35 years in other countries. I figured I was probably the worst type of "learner" as I had engrained bad habits, probably over confident in my abilities, and driven on the "other side" of the road all these years. Neill recommend an assessment session and was immediately able to understand my needs and develop the appropriate programme for me over a ten hour block of lessons which included the driving test. I found Neill to be exceptionally perceptive and quick to highlight areas I needed to work on - nothing slips by him. He demonstrated a vast experience and knowledge of the material, never failing to be able to answer a question or to provide the appropriate instruction. Neill was very good at turning the theory into usable practical information. The information and tools on his website were very informative and helped prepare me for the little details the driving examiner was sure to be looking for. Overall Neill was very pleasant, patient and delivered exactly the right programme for my requirements. Thanks to Neill, I passed first time with only one minor fault. I highly recommend Neill to new or experienced drivers. Best regards, Hanno.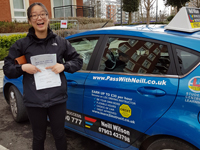 Georgina
Confidence Boosted
'Neill is an excellent driving instructor. I have had several instructors and Neill was definitely one of the best out of them. I had just come back from some bad experience of previous driving test and I was quite a nervous driver, with very low confidence. Neill's style of teaching and calm and humorous approach create a welcoming and approachable environment for me to learn and hone my driving skills. Also, he was able to keep a quite nervous me calm enough to pass the new test on my first time! It was an absolute pleasure driving around with him and I would 100% recommend him to anyone else learning to drive. Thank you, Neill, for everything.' - Georgina Cheung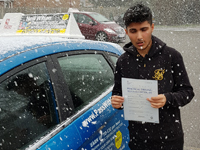 Sami
Confidence Boosted
Neill has helped me from start to finish. With his help I have become a more skilled and thinking driver. Cannot recommend this man enough!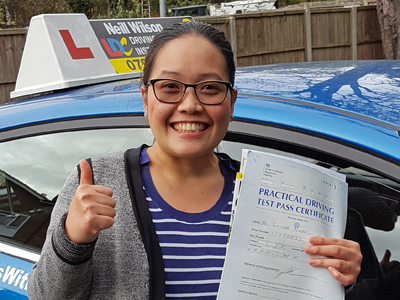 Florienor
Test Booster - First Time Pass
I was a nervous driver having had 20 lessons for a number of weeks before I decided to look for an intensive driving course to boost my confidence. I had pre-booked my driving test before I met Neill from LDC and I felt not ready at all for my exams scheduled in 2 weeks time. Hence, I searched online for another driving instructor and seen Neill's website. I looked at his website and read on the testimonials written by his former students. The testimonials as I have realised now are true representations of how effective Neill's methods are in helping learners pass. Neill has improved my driving with his calm demeanor, made me confident on the road and sorted out my nerves. Neill handed me the LDC workbook which gave a structure on my learning. The sections of the book has knowledge and skills set to achieve at each point of my lessons, which made me feel my own progress. There was one bad day on my lesson and I said to myself I would not pass the test, but at the end of the day, Neill made me reflect on the positive bits and made me focus on getting my manoeuvres and driving right up until the day of my driving test. Overall, the LDC system (workbook and videos) strengthened by Neill's guidance and methods of teaching create better drivers, and am fortunate enough to be one now. I highly recommend Neill to learners looking for a driving instructor for the first time, or even if you had lessons before, learn under Neill and guaranteed, you will feel an overall well rounded driver. Many thanks Neill!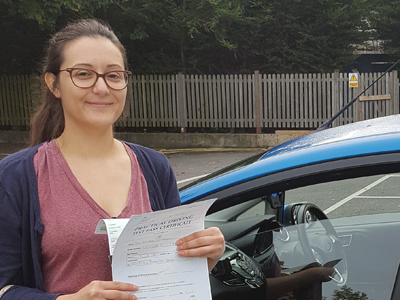 Rumyana
Nervous Learner
Choosing to learn to drive with Neill was the best decision I could have made. I was far from a "natural driver", very nervous and lacking confidence and concentration. I couldn't thank Neill enough for always being there to save the day, encourage me to not give up, and for all the patience. After the second failed attempt I was ready to give up. I'm glad I didn't as in the end all the hard work finally paid of. It quite a simple formula that always works - Neill Wilson with all his helpful tips and tricks + LD driving system containing a Workbook and DVD filled with helpful information = Confident and safe driver. Highly recommended.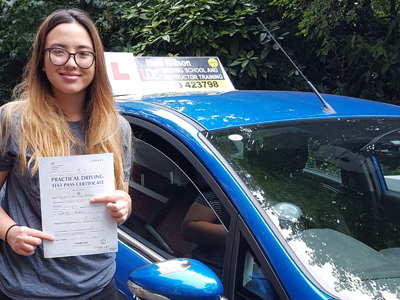 Emily
Confidence Boosted
During a year and a half, I was constantly moving between two counties and had a total of three driving instructors to help me try and complete my driving test. Having prolonged periods of time where I wasn't learning, it had really knocked my confidence for my hope in ever receiving a driving licence. This week, I finally proved my doubts wrong as I have passed my practical driving test and it's all thanks to Neill. I do not think I would have been able to pass without his guidance as his calm, clear and reassuring nature helped me believe in my own abilities. The LDC book that Neill provided me with was a great way to help me keep track of what needed to be improved during my lessons and gave advice on what to expect for the test. I can't thank Neill enough for helping me achieve my goals and always encouraging me whenever I was apprehensive with my driving skills. Neill is such a great instructor, I would highly recommend him to anybody who is thinking about learning to drive.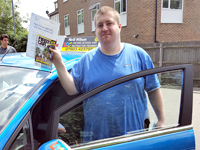 Simon
Confidence Boosted
After having a bad experience with another driving school many years ago I had lost any interest and inclination to drive. After turning 30 I felt it was now or never to learn so I began researching many driving schools and I was drawn to the LDC method where you are encouraged to take responsibility throughout the process and reflect on your mistakes and correct them, which really benefits your ability to LEARN how to drive and retain the information, instead of being TOLD how to drive which can often be forgotten.
I found the workbook really beneficial for being able to plan each lesson and understand the theory behind each topic, meaning that I could spend more time actually driving. The reflective logs allowed me to look back at how I had progressed throughout my lessons and be proud of my achievements. Neill was an excellent instructor and I could not have asked for more from him, he is professional, punctual, extremely knowledgeable and has the patience of a saint, at the beginning I was my own worst critic and would only focus on what went wrong, but Neill would always be able to point out the positive progress I was making, which helped me change my outlook and improve my confidence.
His teaching is so effective that I went from beginner to passing my test with just 30 hours of tuition. Thank you Neill, you have helped me achieve something that I didn't think was possible.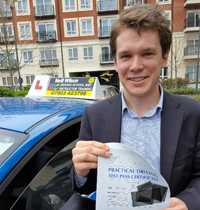 Daniil
First Time Pass
Today I passed my driving test from the 1st attempt, and, more importantly, I learnt to drive safely and I genuinely enjoy it! I can't thank Neill enough for taking me to where I am now from level zero in a period of less than 2 months. I thoroughly recommend Neill as a highly professional, very knowledgeable and experienced instructor as well as a reliable and a pleasant to work with person. I took 30 hrs semi-intensive course and from the beginning to the end I always knew where I stand in terms of progress, what aspects I should focus on, what I am good at, and what will be next thanks to the structure and plan which you and Neill put together (and shape as you go) around the lessons and continuous constructive feedback. One of the particular features of driving lessons with Neill which I find particularly instrumental to my success on the practical test and confidence in driving, was the fine balance between the discipline and positive and optimistic attitude supported by Neill. Whenever you make a serious mistake on the road, you will always be asked to reflect on it, work out together how it should have been accomplished and practice until you feel confident about it. At the same time, Neill always supported positive and optimistic attitude during every lesson, which was extremely helpful, particularly when something goes in the beginning not as smooth as you wished, and in the end you are getting over it together and enjoy the driving only more. I am confident that the most ambitious objectives the one may set in driving lessons are certainly easily achievable with Neill.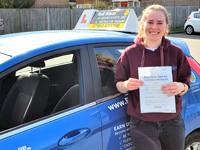 Juliette
Skills well remembered
Neill is a great teacher. He is friendly, supportive and encourages you to do things at your own pace. Throughout our lessons, I was pleasantly surprised to find how quickly I was able to learn manoeuvres and drive on main roads. I very much appreciated that, when we believed I was ready, I dealt with different situations on the road. Because of it, I now feel confident in dealing with situations which would have made me nervous beforehand. I took a 3 week intensive course with Neill, then some more sessions a few months apart without having driven at all in between. Thanks to his rigourous training and the LDC book, I remembered the skills he had taught me and passed with 4 minors. I would highly recommend Neill to anyone, to learn as a beginner or to brush up on their driving, as he is calm, patient and clearly enjoys passing down his invaluable knowledge. Thank you Neill! "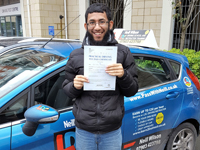 Ayub
Passed First Time
I would like to thank Neill for helping me pass my driving test on my first go. Neill demonstrates the qualities required to be a successful instructor. His experience is second to none, he is calm and as a result you feel safe.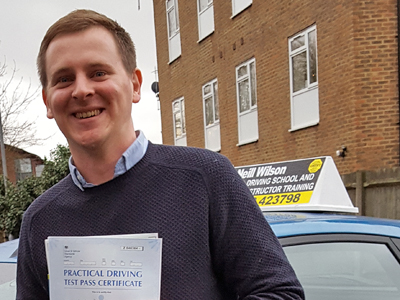 Ian
Test Booster
Neill is an excellent driving instructor. I had some driving lessons many years ago but for various reasons didn't get around to taking a test and subsequently forgot everything. I set myself a goal to pass before my 30th birthday in December and signed up for the Test Booster course with Neill. Neill is a friendly, professional and extremely knowledgeable instructor. He has a wealth of experience teaching at a very high standard and he is great at passing this knowledge on and giving tips on how best to handle different situations. His situational awareness is second to none and he seemed to be able to predict what other drivers were going to do before they even knew themselves. I felt that my road awareness, anticipation and confidence improved massively during my lessons with Neill.
The LDC workbook and DVD that he provided were very useful and helped me to consolidate everything that I had learnt in the lessons. In several lessons with Neill I went from being a nervous learner to becoming a safe and competent driver. My driving test went really smoothly and the examiner even remarked that "your instructor has done a great job". I can't pay a higher compliment than that!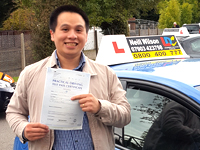 Minh
Confidence Boosted - First Time Pass after failure with others
First of all, I would like to thank Neill very much. Thank you for boosting my confidence significantly and helped me passed in short time - after my failed driving test attempts with others. But more importantly, Neill identified my weak areas to be improved and to become a road safe driver. The whole learning experience was enjoyable and without any stress at all. I started learning driving aged 28 so it's not easy to find not only good instructor but also who could accommodate to my working schedule and my short driving test notice due to an earlier test slot become available. Also, I used to think all Approved Driving Instructors (ADI) are the same until I met Neill. I am particularly impressed with Neill's integrity, patient and professional ethics - these qualities from Approved Driving Instructors (ADIs) are like gold dust nowadays. Truly he is an exceptional instructor. He possesses a calm approach and thoroughly explained to why I should or shouldn't drive in particular ways without making me panic whilst driving or making a situation worse than it was. The LDC system of driving tuition must go together with Neill's quality on both teaching and coaching style - which should be set to become national standard.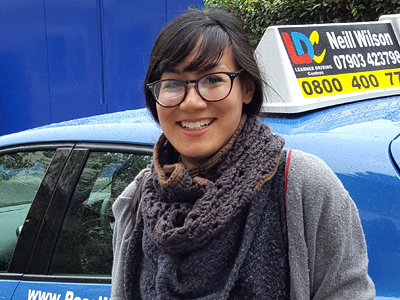 Vaishali
Confidence Boosted - First Time Pass
Thank you Neill for enabling me to pass first time! It really means a lot to me to have the freedom of a driving licence! Thank you for being so patient and organised. I was also super impressed by the LDC learning materials as not only was there a handbook which I could refer to and actively use with exercises to practise, there were also excellent videos which took me step-by-step through the process. I think LDC is a brilliant system and I wonder why it is not more widespread in use. Thanks again for all your help and I wish you well in future!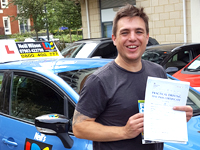 Laurence
Confidence Boosted - First Time Pass
After having an horrendous experience some months before I really lacked the confidence and self belief that I'd be able to pass the driving test. Just a few minutes in to my first lesson with Neill I felt more self assured. Neill's calm, relaxed and professional approach boosted my confidence immediately. If I got things wrong, there were no huffs, puffs or tuts. Neill's approach was to involve me in the learning process, ask why I thought manoeuvres etc hadn't gone as well as they could have. This coupled with his calm demeanour made for an enjoyable learning experience enabling me to pass first time. Thank you Neill.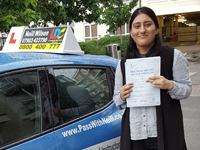 Sofia
Confidence Boosted
After failing my first test with a previous, and very nervy, driving instructor, I had lost confidence in my ability to pass so left driving for about 8 months before I decided to give it a go again. I knew I had the skills but I felt like I hadn't been taught how to be a safer driver on the roads as well as being able to anticipate and plan for situations ahead whilst driving. After my first lesson with Neill, these fears were quickly quashed as I was amazed at his ability to judge the actions of other drivers on the road and his extensive knowledge about driving in general. I felt confident that I was being taught by someone who knew the discipline so well which is why I was able to pass with 6 minors having not even been to the test centre before the test date. Neill has taught me to be a safe driver first and foremost and this is something I will carry with me for life! Thanks a million Neill! All the best, Sofia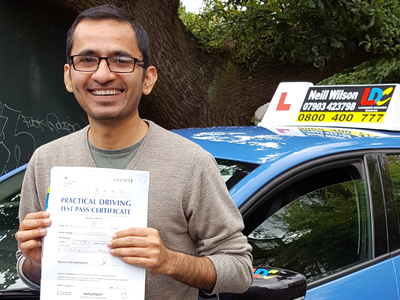 Raj
Solid drive in between cloud bursts
Neill is very professional and is very passionate about his job. He is very organised and professional. He is always on time and is flexible to accommodate you at other time slots should you end up in a situation where you need to reschedule your pre-booked lesson. He made me feel at ease and pointed out my mistakes. Unlike other instructors he remembered what mistakes I made in my last lesson and helped me to rectify those mistakes. Not only did he point out my mistakes but also explained the rationale and why I should not make the mistake and gave me useful tips to keep in mind. It is natural as a learner to make mistakes and rest assured Neill will keep you safe. The LDC driving skills workbook that was provided as part of the package was really helpful to develop my driving skills. I plan to take Pass Plus practical training course with Neill to help further develop my skills to drive on motorways. Thank you Neill once again for all your help and guidance. Many thanks Raj
Hannah
Nervous Learner
I found Neill to be a friendly, supportive, and patient driving instructor. He tries to empower students right from the beginning by giving useful reference points, and is strongly committed to safety on the road. He was also very flexible in offering lessons that would fit around my busy work schedule. He gave me an LDC book that gave useful guidance on how to drive, as well as valuable information on the driving test. I am grateful to Neill for teaching me to drive and helping me pass my test, and would recommend him to other learners.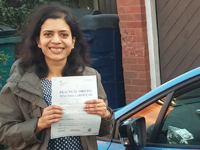 Sumona
Nervous Learner
Thank you Neill for being so patient and supportive. I came to learn at quite a late age and driving was completely out of my comfort zone. It's your constant encouragement and support that made me believe I can pass even being a slow learner. It took my several attempts. But your assurance, patience and excellent way of teaching were the factors behind. I think you are the best instructor and would definitely recommend you.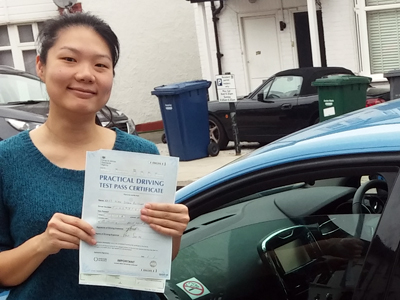 Bettina
Nervous Learner
Neill is a great teacher. He is friendly, patient, calm and very knowledgeable. Not just a driving instructor but also an instructor of instructors, I highly recommend him, especially if you are a nervous leaner. He is able to go through things you don't understand over and over until you finally get it without losing patience. He is also happy to answer any questions you might have regarding driving, no matter how trivial. Not only he taught me to drive but he also taught me to be a safe driver. The LDC DVD and handbook were useful tools that came with the course. They helped me keep track on my progress and allowed me to prepare what I needed to learn next and enabled me to reflect on what I needed to improve. All in all, I am very I am very happy with Neill as my driving instructor. Thank you Neill for helping me pass first time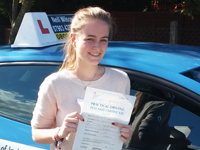 Hannah
Passed first time
Neill was a great driving instructor and very patient throughout the entire time I was learning to drive. He would never lose his temper/get annoyed if I made mistakes, he would take the time to go over what I had done and helped me to rectify it. The work book provided to me by Neill helped me to go into my lessons with an understanding of what I needed to do, this meant that I was able to go into all my lessons with a good level of confidence. After starting my lessons in December last year, when it finally came to passing my test I felt calm and prepared and I passed on my first attempt with only 5 minors. I would thoroughly recommend Neill to anyone who was looking to learn how to drive.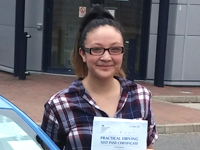 Stacey Pineda - Harrow
I would like to say a massive thank you to Neill Wilson, without his patience and help I would not have been able to pass my test. After having a previous driving instructor, I was extremely impressed with the standard of Neill's teaching as I learnt how to drive in a calm, comfortable environment and in a way which has taught me how to drive safely for the rest of my life, not just how to pass a test. The lessons were consistent and always on time if not slightly early which I was really happy with. I appreciate the time and effort Neill put in to every lessons which gave me the confidence to persevere with driving. I would definitely recommend him to anyone looking to learn at the highest standard and pass their test with confidence. Massive thank you. Thanks again Neill for everything!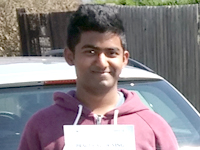 Flavion - NW10
Neill is a calm, patient and friendly instructor. Having taken 35 hours with him, my confidence increased each lesson. I passed first time with only 1 minor, despite failing each mock test I did. The LDC handbook was really useful in keeping track of my progress and what had to be improved. I am incredibly grateful to have found him and thank him for helping me pass. He is the best instructor in London, and I highly recommend him! (London's version of Bob from LDC's YouTube channel)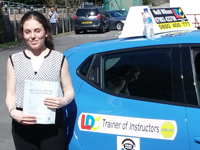 Danielle - HA4
I started lessons with Neill in August and passed my test second time round in April. He is a very good instructor, and uses the LDC book and lesson plans in a way so that you get the absolute most out of the course. He will give advice on which lessons to do before others, however ultimately lets you decide the order in which you would like to learn the different driving skills, so that the learner effectively gets to plan their own lessons. As you're learning, he constantly gives constructive criticism, which I found really useful, and he was never late to a lesson (in fact most of the time he showed up early). I would really recommend him to anyone looking for an instructor.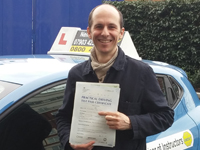 Michael - North London
Neill is an excellent instructor. A very patient and knowledgeable tutor, who gave me confidence to pass first time. His attention to detail and handy advice backed up by the LDC book really helped. I highly recommend him, Thanks again Neill.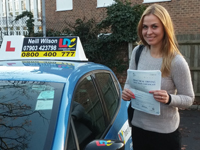 Laura - NW2
Like most people I had taken a few driving lessons when I was 17/18 but my confidence was knocked by an over anxious instructor. I didn't feel like a 'natural driver' and didn't enjoy my weekly lessons, in fact, I dreaded them. So, naturally I pushed driving to the back of my mind and agenda. Twelve years later and suddenly I become acutely aware that amongst my friends and peers I was the only person in my social group who couldn't drive! I didn't want to be that person anymore. Despite my fears and doubts I found Neill Wilson online and decided to learn more about the LDC driving school; to which Neill is affiliated. Taking the initial plunge was scary but after one short chat with Neill I was put at ease instantly. Relaxed, real and kind, these were the traits I needed in an instructor.
After my first lesson I was shocked at how much I absorbed and was able to learn with a very tactful and encouraging instructor as Neill. I appreciated the feedback as it was always helpful and reassuring. I know more than anyone how easy it is to talk yourself into believing that you 'just can't drive' and that's nonsense. It's not important whether you class yourself as a good driver, passing your test is about becoming a safe driver and along with Neill's vast knowledge of the road, the LDC literature will help you get there. I passed my test 2nd time at the age of 30. It's never too late to learn to drive and it's never unachievable. To help you on that journey I can only recommend Neill and LDC training, it's second to none!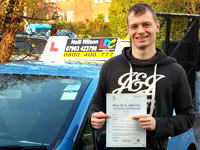 Phil - HA1
Passed first time
I tried learning to drive when I was 17 years old but gave up. Now 14 years later I realised that I needed to learn to drive! I found Neill on the internet and from the first phone call to taking my test he very professional. Neill was always very patient and has a great way of imparting knowledge. He provided me with a handbook which was a great help with keeping track of what I had learnt as well as what I needed to learn. I would highly recommend Neill as even though I was nervous at times he helped build my confidence, he's extremely reliable and thanks to his tuition I passed first time! Thank you Neill your truly a great teacher!!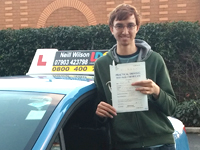 Miguel
Many thanks Neill for the great help offered in acquiring my full licence. I'm glad to have finally passed and couldn't have done it without your excellent support! And of-course the LDC Handbook we were offered helped understand the theory behind the driving plenty as well! Thanks again.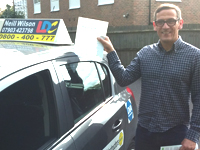 Tim - NW10
What can I say, Neill helped to keep my confidence high when I was incredibly nervous. He helped me to believe I would pass even though I was a slow learner. There were times I wanted to give up but he showed faith in my ability and I passed in the end after several attempts. I would definitely recommend Neill.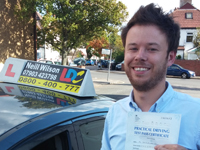 Jamie C
I decided to finally get round to learning to drive having failed to finish my initial training when I was 17. I approached the lessons with a degree of apprehension and a very busy work/life balance. Neill was great, he paced my learning to my liking and was patient with my clear failure at times to learn and revise in the week. But mainly what made him really good was he really knew his stuff, didn't ever let anything slip, and kept on message every lesson - which eventually even I managed to take on board. The result, I passed first time and am absolutely chuffed, and would recommend Neill to anyone who wants to learn not just to pass but develop driving skills for life!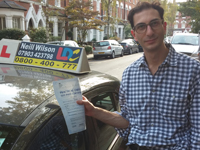 Nathaniel - NW8
Having initially started learning to drive 8 years ago whilst living in another town, I decided to return to it and used Neill. I have now passed my test and would highly recommend Neill as an instructor; of the several instructors I have experienced he was the best.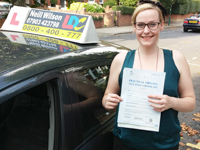 Maud - NW6
Neill is a wonderful driving teacher. I am an incredibly impatient person, and Neill dealt with me admirably, always remaining calm and collected and, above all, safe. His explanations are concise and clear, conveying the relevant information efficiently without resorting to gimmicks. I feel very lucky to have found him as a teacher, and would recommend him to anyone looking to learn to drive.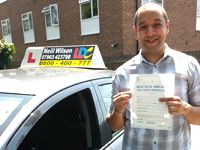 Linden - W10
I had previously failed a few driving tests due to a lack of confidence. I decided to look for an instructor who could help assist me with this and who would also be able to fit me in their schedule for regular lessons and enhance my driving skills.
Neill did all these things and I was particularly impressed with how he simplifies driving by explaining things to you in Lehman's terms. He is very patient and puts himself in your position as a learner explaining the correct way you should be behaving and doing things as a driver.
I had tried BSM and The AA before LDC and I am really grateful for Neill's patience with me and his message to persevere and not give up which was very encouraging.
I would definitely recommend him for all you new drivers out there !!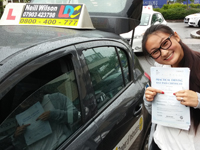 Trinity - NW10
My name is Trinity and I arrived into the UK in September 2013 and started taking driving lessons with Neill. My English at the time was very limited and had alot of bad habbits due to learning to drive in China. These were soon corrected as I found Neill to be a patient and very good instructor cause I made many mistakes in the early lessons. Although it took me 3 attempts to pass cause my nerves got the better of me at the first 2 attempts, Neill was very encouraging all the way through and I finally passed on the 3rd attempt.... It only took me 22 hours of tuition which I think is brilliant considering the language barrier. To Sum up, Neill is a very Patient and precise intructor.... Thank You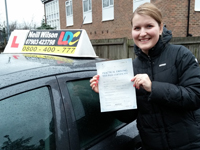 Ewa - NW7
Neill is a brilliant driving instructor - always very patient, focused and calm in his teaching approach. It is essential to be taught the correct and safe way, and this is the way Neill follows through in his lessons. Neill is also very professional therefore, it wasn't much of a surprise to me to hear that Neill is not only the driving instructor but also the Instructor of Instructors.
Neill built my confidence, on not just my general driving but also my manoeuvres and taught me to be a safe driver. I look forward to my own independent driving, now I passed my exam, thanks to Neill.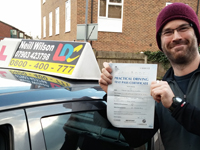 Tom - NW1
Having put off passing my driving test since some failed attempts when I was younger having Neill as my driving instructor really paid off! He helped me develop the right skills and awareness to get the job done properly and it was a lot of fun mastering something I had avoided and feared for so long. A very good teacher, recommended!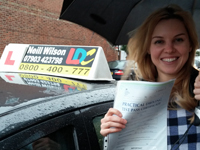 Rachel - NW6
I had tried learning to drive several times with different teachers before finding Neill.
In the past i had been a little nervous about driving, in particular manoeuvres However, with Neill i felt relaxed, and a lot more confident. He identified and targeted my weak areas, to ensure i improved, but without me feeling under any pressure. The LDC Driving Skills workbook also really helped to re-cap at the end of lessons, and revise between lessons. All in all i couldn't recommend Neill more, and i have a first time pass to show for it.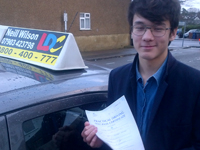 Caspar - N5
Many thanks to Neill for teaching me in a very short time period of 20 lessons to a level where I passed first time with 2 minors. He was very understanding of the limited time I had due to university and knew exactly the approach needed. He provided a very useful LDC handbook so I could read up on the next lessons content to minimise valuable lesson time spent talking in the car about something I could read myself. At the start of each lesson he cleared up any issues I had with what I had read in the book then we could spend the whole lesson driving and working on the things that needed improving. Neill explains things in a very clear manner so you understand exactly the reasoning behind things to do/not to do. When it came to the test he made sure to cover every possibility so nothing unexpected comes up, his mock tests are particularly useful so you feel calm and prepared come test day. Thank you very much, I couldn't have asked for any more in terms of you being a great teacher!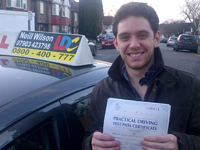 Conrad Von Stempel - N7
Neill is a truly excellent teacher. I had struggled to master roundabouts and lane discipline with my previous instructors and on moving to London, Neill picked up where they had left off. My girlfriend passed first time under Neill's tutorship and he was highly recommended. He targeted my weaknesses and literally "pimped my ride" until I was ready for test day. Thanks to his patience and experience I passed with a few minors. Thank you mate, see you for pass plus.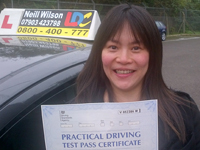 Suree - NW3
I passed first time when I was 35 week pregnant with only 4 minors! I felt more and more clumsy and with slower reactions as I approached the end of my pregnancy! But Neill's confidence in me definitely helped, big time. It only took 14 hours of lessons in 3 weeks with him to meet the required high standard of driving skill (I was driving before but 13 years ago and in different country). Thanks so much to Neill as I am now confident on the road, especially doing complex roundabouts, dual carriageways, etc. His high professional skills and efficient way of teaching using the LDC workbook mean you get the best out of him in the shortest time possible. Most importantly he teaches you for your own road safety not just to pass the test!!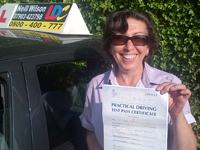 Debra - NW1
Many thanks to Neill for getting me to a standard to pass my test first time. I only had a very short time to do the test and managed to get a cancelation at very short notice. Neill was fantastic as an instructor but also he has my gratitude for fitting me in with enough practice lessons before the test. He is the best instructor I have had. I can not recommend him any higher. The LDC workbook was an excellent learning aid which I use as reference now.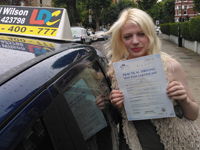 Chloe - Borehamwood
First Time Pass
Neill is a fantastic driving instructor, I very highly recommend him to everyone.
I have had lessons with a few different driving instructors, but he is by far the best you will find in and around London. he's a very good teacher and he give's you a very good book on your frist lesson (LDC Driving Skills Workbook) which helps you learn fast and is very handy to have! 100% use Neill, he's fantastic.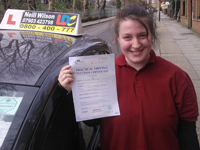 Zeynep - NW3
Being a university student, I had a very tight schedule. I therefore opted in doing a one week intensive crash course with Neill. The combination of both the LDC working book/DVD plus the fantastic practical skills that Neill gave were excellent especially in the limited time I had to learn. With his calm and patient nature teaching alongside learning what I did and passing my practical exam with 3 minors makes Neill a highly recommended teacher. He is one that I would most definitely advise to other beginner drivers whether with or without previous experience, myself being one with no experience before. Thank you Neill!
After my exams, I will be in contact regarding the PASS PLUS course.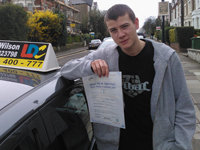 Louis - NW2
Neill helped me get a better understanding of how to be safe while driving. He gave me some very useful tips to use on my test and made me feel very relaxed on test day. He remained calm, and explained things very clearly so I was fully prepared for my practical test. My first test I took whilst learning with Neill, I passed with only 2 minors, which was great. I strongly recommend Neill as a driving instructor he will definitely help you pass.
Thanks once again.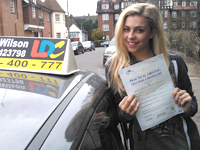 Jemma - NW2
I thoroughly enjoyed taking my driving lessons with Neill. As well as being a great practical instructor, his experience enabled him to answer all of my questions in thorough detail, however big or small. His semi-intensive course took me from a beginner, with absolutely no experience behind the wheel, to passing my practical test within 3 months! He gave me confidence to be a safe and proficient driver, even in the inclement weather in which I took my course in during the winter. His calm and friendly approach kept me at ease at all times, even when I made mistakes and even on test day! I cannot recommend him enough and couldn't have passed without him!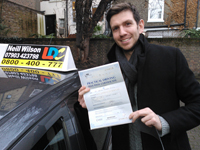 Dan - N1
I started lessons with Neill having had 6 lessons over 10 years ago. He immediately put me at ease - more so than 2 previous instructors, giving me the confidence I needed and quickly spotted strengths and weaknesses which meant time could be spent developing those skills that needed more work.
Having spent a long time searching, reading a mixture of reviews of the big driving schools I am very pleased I opted to go with Neill, passing first time after about 9 x 2hr lessons.
The LDC book was a really useful tool to have too - enabling lesson time to be spent driving rather than talking.
Neill always put safety first and I feel like not only have I passed, but I am a safe driver too.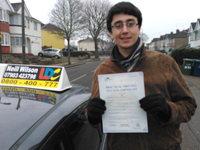 Alexander C - Harrow
Neill equipped me with the best skills possible to form a solid driving base. His thorough and clear instructions boosted my confidence and made driving a joy. All this together with the ldc pack couldn't have better prepared me to pass my test at Pinner with just one minor.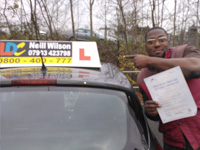 Andrew - North London
Really enjoyed learning with Neil, he had a very short period of time to help me brush up on my skills and develop good habits and not only did he pull that off but I actually passed with only one minor! I highly recommend him.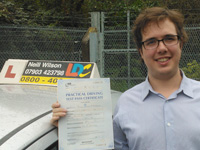 Harry - North London
Neill's a great instructor. During all my lessons he was calm, clear and totally consistent about how to get things done. In fact, he explained things so clearly that sometimes his instructions still pop into my head, months after passing my test. See the whole story. Plan for the road ahead. Use those detective skills.
He always took time to help me understand "why" as well as "how" and I think I'm a better driver as a result. Totally professional, always friendly and completely expert. I'd recommend him to anyone.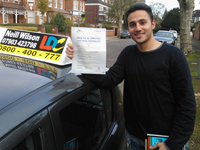 Arash - NW2
Guys I just did 4 lessons with Neill and passed !!! you can do it as well just you need to call him and take a first hour with him then he knows the rest.
Neill thank you for all your help and patient. Much Obliged.
Michelle - NW6
Neill is a very good calm instructor who helped me pass first time with the LDC book after a couple of months of lessons. I prepared for each lesson by reading a section of the LDC book and Neill talked me through things when i was struggling so i would highly recommend him as an instructor.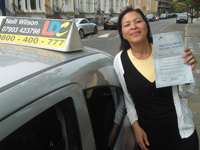 Veronica - W10
After failing 2 driving tests with 2 different driving schools and more than 65hrs of lessons, I became very depressed and was on the verge of giving up. I took a 3 month break from driving and whilst scouring the internet for solutions, i stumbled upon Neill's website and gave him a call straightaway after reading the testimonials on this site.
I was a very nervous experienced driver but with appalling bad habits which was holding me back from progressing. All my previous instructors had told me I was a slow learner. i also did wonder if i had a neurological problem which was holding me back, also I was much older than your average UK learner driver (44) and that made me feel I will never ever pass.
I decided to have a final try with Neill and it was the best decision I had easily made. He is professional and never late for lessons, enthusuastic and it rubs off on the pupil. He clearly loves his job. Also the LDC workbook was great and it gave me the chance to approach each lesson with confidence. I wish I had it right from the word go.
I did 10 hours with Neill and passed first time with 8minors! i kept my cool during the driving test and remembered everything he explained to me during the lessons.
I never thought I'd ever see this day but THANK YOU Neill and LDC!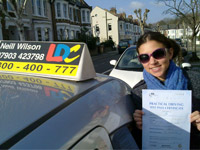 Jessica
I wanted to learn to drive before I turned 30 as a personal challenge, but I was quite nervous about the whole thing. I finally got up the courage to learn to drive and I'm really pleased Neill was my teacher. His instructions were clear and he had plenty of advice about how to overcome my nervousness about driving. I started back in August and passed my test first time at the beginning of February. I couldn't have done it without him!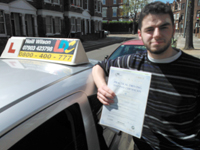 Peter
Having first opted to do a crash course I decided to have lessons over a longer period of time. Despite my initial incompetence, Neill was very patient and progression was smooth and consistent, but also enjoyable. Scheduling lessons was very easy despite my studies. I would highly recommend Neill and the LDC system to anyone wishing to learn to drive.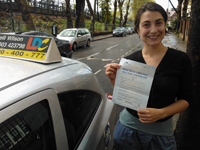 Fernanda
I cannot recommend Neill and the LDC system highly enough. I just passed my test first time with 5 minors and really feel confident about being a safe London driver.
The LDC system works by concentrating on the basics that make you a safe, steady driver. I've tried a few driving instructors over the years (some part of well known chains and others independent) and I never got the same confidence in my own driving from them. I got great feedback from them in lessons but then would feel nervous practising without them - the LDC way that Neill uses helped me feel confident that I was driving well when practising without him.
The LDC system that Neill uses is to tie in the more complicated manoeuvres and dealing with busy traffic situations with the basic safety drills and car awareness that you use in everything. This makes you feel that you can iron out any things you're not sure about and then cope with anything you come across in more unpredictable traffic.
The LDC book is also really useful. I used this to help me understand what the car was doing and when I should be doing basic drills. It's different to other driving schools because it just explains it to you with the help of pictures and then a quiz at the end of each chapter - this is a lot easier than trying to just remember the driving instructor's explanation while you're driving!
Neill was a reliable, clear-speaking, super aware and supportive driving instructor. Yes, like the other reviews say - he loves a laugh *but* these were the qualities I appreciated most after trying other driving schools.. I'm so proud to have passed, and I know I wouldn't have the confidence to really drive by myself if it hadn't been for Neill and the LDC way of teaching.
Recommend really highly to anyone who's new to driving (you would be so lucky to start here!) or who's been around the block a bit and just wants to drive! Price-wise it's great value because the results are fantastic, other driving schools don't help you progress in the same way.
I'll be doing the Pass Plus to bring down my car insurance now, and I'll be doing that with Neill too"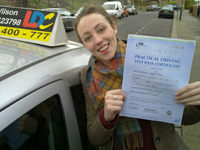 Eileih
Growing up I had no interest in cars or driving at all and so when it came to learning to drive even the basics weren't common knowledge to me! However, after learning with the LDC books and DVD, and the fantastic teaching from Neill, I managed to pass first time with only 2 minors!
I really struggled with confidence when first learning but Neill was extremely patient and always remained calm even with the added stress of London driving. He never got annoyed or frustrated with me and managed to keep the atmosphere during the lesson relaxed and fun even though I was extremely nervous to begin with.
Everything was explained very clearly and time was taken to ensure I felt confident with everything covered in the lesson. Neill is a brilliant driving instructor and I have, and will continue to recommend him.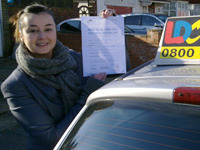 Penny - N1
I had taken some lessons previously with another driving school but stopped as I didn't feel I was getting anywhere. After a two year break from driving, I started with Neill and did a semi-intensive course spread out over several months. I picked him over other schools and instructors because of all the positive testimonials on here - and they're not wrong.
He is a knowledgeable and supportive instructor who is always on time and organised. Aside from this professionalism, Neill is simply a really nice guy and time spent learning with him can be fun too. At certain points, I thought there was something actually wrong with me, that I would never get the hang of it. But Neill was always encouraging and now, 5 months later I've passed my test and am confident that I have been taught to drive in the best and safest way. Thanks Neill!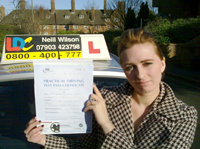 Danielle - NW11
I never thought id see the day when i finally passed my driving test!
At first i was apprehensive about starting to learn to drive but neills approch to teaching instantly made me feel at ease and learning a more enjoyable experience.
Being relativley new to london neill always gave me the best advice about coping with london roads and traffic, his expertise with driving and road knowledge lead from being a complete novice to passing in less than 5 months!
Im now able to be more mobile for myself and for my daughter and because ill need to be a good motorway driver i will be doing my pass plus with neill asap!
Also neill will soon have the pleasure of teaching my fiancee too!
Thank you so much neill
Ill see you on the motorway!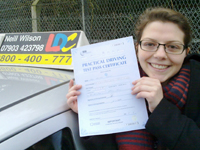 Hannah - N16
I cannot recommend Neill highly enough, especially if you are nervous about driving or have had a bad experience with a previous instructor. Following a series of lessons with the AA, I felt I had made little progress and driving seemed a nerve-wracking and daunting prospect. In my initial session with Neill he pointed out all the skills I had retained, which gave me confidence. He continued to build my confidence throughout the lessons, and was always calm, clear and extremely patient.
The LDC book helped me to prepare in advance of each lesson, which eased my nerves. Having my lessons structured around the book allowed me to record my progress, and provided a clear and natural build up to taking the driving test.
Although I failed two tests, Neill's absolute conviction in my ability to pass never faltered. On my third attempt I managed to keep my test-day nerves under control and demonstrate all the skills Neill had taught me, passing with five minors.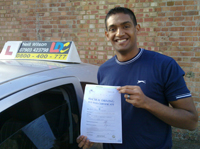 Jonus - N7
14 Hours - Driving Practice with Neill and I passed my Practical Test on the first attempt.
Firstly I would like to thank Neill for helping me achieve my Driver's license. I have been driving in various countries such as India and Kuwait before I came here to the UK. As anyone would think once you know how to move a car you can drive, but this is not the case. Rules and traffic regulations as well as driving are approached in different styles. Neil has helped me improve as a driver by observing me and simply showing me where I needed to improve. His calm approach and explanations of his daily experiences in traffic gives you a firsthand experience of what to expect when or before the wheels start rolling. His stern voice to correct you not a shout but one that makes you remember for a weeks and months to come is what not to do whilst in the car. Since I have been working long hours and I was only be able go for classes on the weekend the Handbook (Driving skills Workbook) has enhanced by knowledge of the rules and regulations and positioning the vehicle on the road thus saving lots of time on explanations during classes.
Once again I would like to thank Neill for all his efforts and hard work.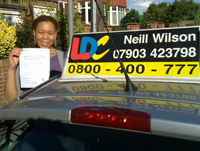 Gayna - NW10
'Well, I've done it. Thats one more thing that i tick off as accomplished for the year, and have Neill to thank for that. I must admit there were times when I thought that driving was not for me, but my experience with him was such a good one that towards the end, my trend of thought had changed.
He has the patience of a saint, and an ease of friendliness about him that relaxes you, from the first time you meet him. He knows his stuff, gives clear instructions and always lets you know when you doing well or when you lack in concentration.
What I really admire about Neill, is that he loves what he does and I think that is a really important trait for a driving instructor. Even more important is that he is clearly very good at it.
Thanks a million Neill, for your lessons that will last a lifetime.'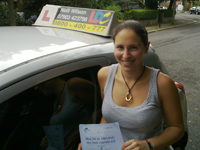 Ali - NW2
I really enjoyed learning to drive with Neill and the LDC course system. I did a semi-intensive course and have just passed my test on the first attempt after 36 hours of lessons. Neill is a great instructor; he is calm, patient, very competent and makes you feel at ease in the car. He is very good at gauging when you are ready to move on to something else, and when you need to take a short break to regroup. His teaching style is excellently supported by the LDC course, which includes a DVD to help with the theory test, and a book which breaks learning to drive into manageable chunks and gives each lesson a clear objective.
Neill was extremely professional throughout, very organized and flexible in booking lessons. I'd highly recommend him to anyone learning to drive, who wants to feel comfortable and confident on the road.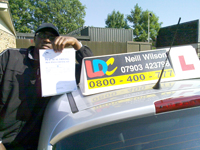 Raymond - NW London
Well today I passed my driving test. I'm so happy I've been trying for 18 months having failed twice before I changed instructors and went with Neill. I am very impressed with his teaching, he makes you feel relaxed, he is a funny guy so thats a plus when your learning to drive as it puts me at ease. He is a straight talker and he makes sure you understand what your doing before you move on to anything else. As I had trouble bay parking, so every lesson we practised bay parking for bit of the lesson until it was drilled into me. If your going to learn to drive and reading this, I can't recommend him highly enough. Oh yeah I passed with only 1 MINOR AND WITH OUT HIS TUTORING I DONT THINK I EVER WOULD HAVE DONE SO WELL ON THE TEST.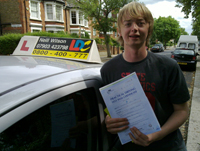 Jonathan Pym - NW6
I really enjoyed having Neill as an instructor. He was always very clear with his instructions and he would never get annoyed with me if I did something wrong.
I passed my theory test and practical test first time with 42 hours of lessons and only 8 minors in my exam. I could never have done this without Neill.
Thank you Neill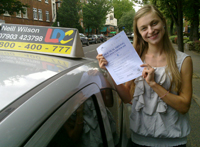 Ksenia - NW3
Finding an instructor like Neill was like a breath of fresh air in my life of achievements. Before my classes with him I've been driving for a while with an instructor that had no interest in making me getting a pass, as if intentionally. He wouldn't explain things to me, got frustrated easily if I asked questions and simply criticized me and expected me to know things, which I clearly didn't. After my first lesson with NeilI was overjoyed and relieved knowing that I'm in the right hands and I'm going to be taught all the basics and feel comfortable, confident on the road. One of Neill's features is tendency to talk quite a bit but he only points out what's appropriate and relevant, so that you can improve your driving.
Can't fault him, very professional and loves what he is doing. LDC materials couldn't be more useful and helpful as well, with clear pictures for better visualisation and DVD's for those who need extra guidance and help. What a relief it was finding him… With 3 minors, I've passed my test today. But most importantly, it is all there in my head and nobody can take it away!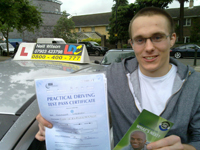 Alec - NW6
As I had a bad experience trying to learn to drive several years ago I was apprehensive of my first lesson with Neill. However, he put me at ease straight away and driving quickly became fun.
From the outset Neill assessed my needs and tailored the lessons accordingly. Each lesson had clear goals, was supported by the comprehensive LDC advance reading and was followed by a de-brief with suggested learning points for the future.
I was impressed by how organised Neill was, promptly responding to emails, calls and texts, never late and accommodating when booking suitable lesson times. In fact, throughout the course (as my circumstances changed) we had had lessons during the week, on weekends, early in the morning and in the evenings.
I was fortunate enough to pass at my first attempt and have no doubt that it was thanks to Neill that I have managed to become a confident driver!
Jodi - NW2
After failing two previous tests through another driving school, I decided to change Instructor and School as I was never comforatble with my previous Instructor and did not look forward to my lessons. I then found Neill at LDC and straight away felt comfortable and relaxed driving and didn't dread the lessons anymore.
Neill is an extremely patient and calm Driving Instructor even when I was having a bad driving day. His instructions were always clear and encouraging and he has a great way of making driving fun.
I had weekly lessons, he was always flexible with lessons and once ready for my test, I passed first time with Neill, I would highly recommend him to anyone and after a wee break, I will be learning Pass Plus with him.
Thanks Neill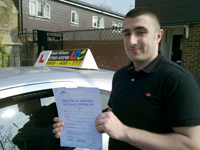 Luke - N5
I would highly recommend neill to anyone that is learning too drive!
After doing an assessment he recommended the LDC test booster course which was very effective and got me upto test standard very quickly. Before I started learning with Neill I didn't have much confidence, but after taking lessons with him it was clear that I made the right choice of instructor.
He was very friendly and he never got annoyed when I made mistakes. Whilst he was teaching me to drive I felt more and more confident at the end of every lesson.
Neill made learning to drive fun, and I always looked forward to our next lesson!
On the day of the test I felt calm and fully prepared.
I passed first time at Borehamwood with only four minors!
Thanks neill!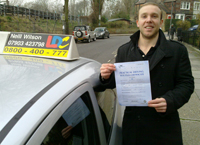 Kev - West London
"I had a couple of lessons a few years ago with a well-known driving School and never got round to taking my test, so I booked a semi-intensive with Neill. He was very helpful in setting up the course to fit around my busy work and social schedule and proved to be an excellent teacher, getting me to test standard much quicker than I was expecting. I felt very confident learning with Neill and this was justified when I passed first time. I would highly recommend Neill to anyone either looking to learn from scratch or students looking to shake bad habits from other instructors."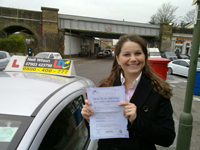 Michelle - W9
Neill is an extremely committed driving instructor and I am grateful to have chosen him. I have been driving for over 15 years in South America and as I recently moved to the UK, had to learn the UK style and standards of driving. Neill was able to interpret what were my main needs from day one and as a result, I passed the test in early December 2010, with very few minor mistakes. I would not hesitate to recommend Neill to anyone!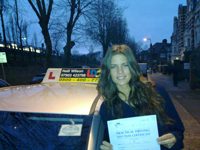 Chloe - London
I did the Intensive crash course with Neill due to my work schedule making it difficult to do driving lessons in the past. Many people I told I was doing it were wary that intensive courses generally don't work as well as driving lessons spread out in a normal fashion. However having proved them all wrong and passing first time after only starting to drive 6 days before the test, I can only thank Neill enough for getting me through it all before a week was up. He is patient, calm and persevering. He is a great teacher and got me through it in the very little time I had. The LDC dvd and book are a great and steady way of learning the driving skills and I would highly recommend Neill as an instructor if you are wanting to learn to drive. He explains each step in a very easy way to remember and gives you the confidence you need when in a car. Thank you Neill, I now LOVE driving, Chloe.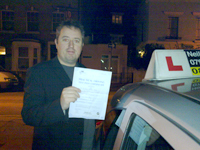 Ben - NW5
The structure of the Semi-Intensive, combining the practical lessons with dvd / book was very effective. Neill was as excellent teacher and on the day of the test I felt calm and prepared. My first lesson was in late September and I passed first time two months later. Cheers.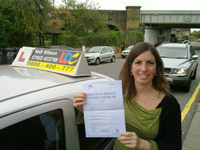 Anat Treanor - NW6
As an experienced driver I faced a different challenge: kicking old habits out and get my driving skills into proper shape. The fact I didnt drive a stick for years didn't help either. It took very few hours of practice for Neill to turn me into the driver I should be. Giving all sorts of useful tips and reminders, making sure I wont get too nervous before the test, having tons of patience. It actually have been fun, more than I expected, but I wont do that again... THANK YOU!
Push and pull...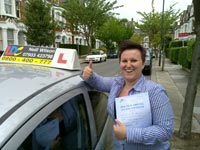 Amy - NW6
I'm another one of Neill's students to pass first time. Having first chosen BSM as my driving school, I had two instructors, one who was more nervous than me and didn't push me at all, and another one who pushed me too far too soon, which put me off the car for a while. Six years later, I made a wise choice in choosing LDC and Neill to help me pass. He is somewhere in between my two previous instructors, and I never felt completely beyond my level, yet have now passed with far less hours lesson time than the 45 hour average, and without any practice in between! Passing with Neill has definitely saved me time and money.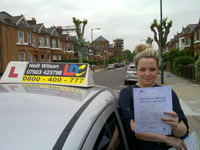 Roisin - NW10
After wasting a lot of money on driving lessons with Red Driving school and not learning very much, I booked an intesnsive course of lessons with Neill who turned out to be a brilliant driving instructor who helped me pass first time. I would recomend him to anyone. He helped me learn so much in a very short space of time. He was very calm and explained what I needed to do and how to do it in a clear way. He never shouted or got annoyed at me even when my driving was appalling. He is a fantastic driving instructor and I would highly recomend him.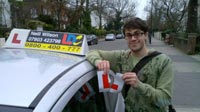 Sean - St Johns Wood
Upon scouring the internet looking for possible driving schools it became clear that there was a lot of choice however, when looking at LDC the manner of how they taught was superior, reading the pre lessoned material resulting to more actual driving time on the road.
It was important to me to select a driving school and instructor that would provide me and teach me to a high and more important proactive personal standard.
LDC & Neill provided this in such a perfect way and I was able to pass FIRST time. I'm very pleased with my choice and would truly recommend Neill to anyone.
Neil is a great instructor that made me calm behind the wheel from the get go and really helped me to develop in such a short space of time. He gave clear instructions and explained in clear detail what I was doing wrong and how to improve.
Neill was always at hand whenever I needed him on the phone and the humour and banter in the car while driving made it that more fun. Each lesson with Neill was a joy.
Learning to drive really wasn't stressful it was fun.
Thanks Neill!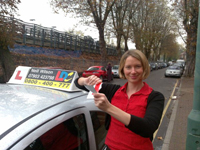 Helena, London N5
"I took my test twice when I was 17 and failed twice. But 10 years later with Neill I passed first time. I wanted to learn with LDC as I liked the idea of backing up practical lessons with DVDS and books. Neill is a very patient instructor who gives clear advice and instructions. He's very calm which is exactly what you need for London driving. He was great at giving pointers while always being very encouraging. He was also brilliant at putting the time in to battle through IT systems to get me convenient test dates! I would happily recommend him to anyone."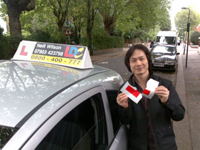 Eric Yu, London NW3
I have previously failed the driving test twice more than ten years ago and have not resumed lessons until very recently.
I found Neill's details online and gave him a ring. We got on well together right from the start and after the introductory assessment; I opted for weekly lessons as it suited my schedule well.
Over the course of the lessons, I have greatly benefited from Neill's tuitions and guidance. I have made numerous mistakes during the lessons but he was always calm, friendly and patient. His lessons were not only instructive, but were also fun. The Driving Test Complete DVD complements the lessons well as I can read up on the topics and ask questions during the lessons if there are things I do not understand.
I passed on our first attempt together. I look forward to learning from him again for the Pass Plus course when I return from a well-earned break. I would recommend Neill without hesitation.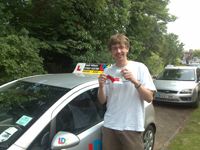 Sam Smith, Muswell Hill
"I passed my Theory test a while ago and had done some driving with two other driving school, but due to other commitments I put driving on hold until I came back to London after finishing university.
Although I wasn't entirely dissatisfied with the other driving schools I had used, I decided to use LDC as they were recommended by a friend. I noticed the difference immediately, LDC really are head and shoulders above the competition.
I called up Neill, and after a chat on the phone, he came round and did an intitial assessment, he then recommended the midway pass course. This proved to be great value for money, as Neill's assessment was entirely accurate; the course was exactly the right amount of hours I needed to get to test standard.
Over the course of lessons, Neill has taught me how to drive properly and safely. I would recommend Neill to anyone learning to drive; heis very patient, communicative and very easy to get on with."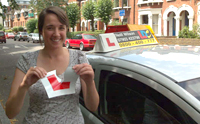 Claire Orrells, Holloway
'I was a nervous learner who had failed 5 times and given up, but Neill had the patience to go through everything and make driving fun. I passed on our first attempt, thanks! so happy I passed.'